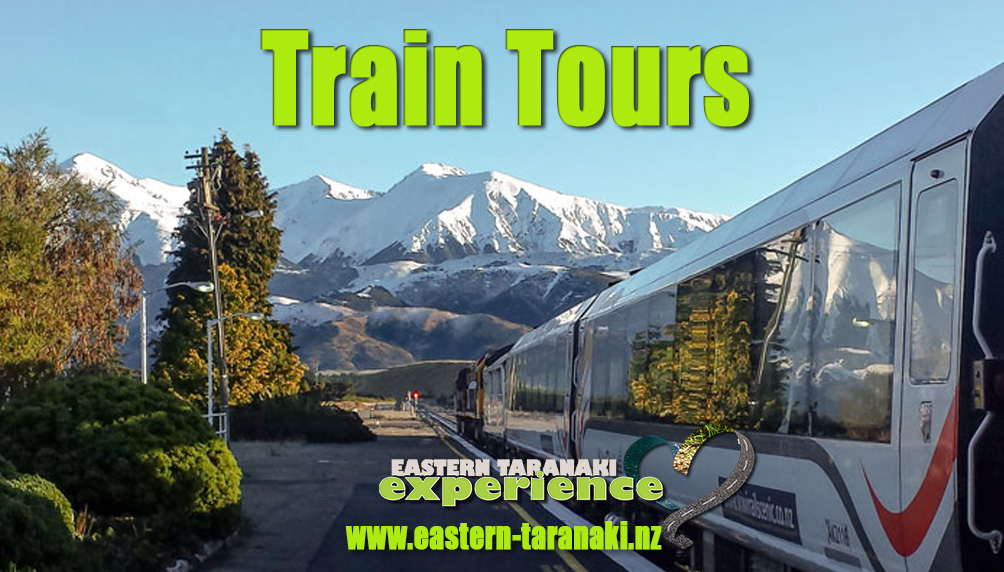 RIDE THE RAILS - 7th-11th October 2021
As per Facebook event for Ride the Rails - details are on the event listed on our facebook page or email dave.digby@xtra.co.nz (click link to email) to request information and registration form. Phone 06 765 7482 if you wish to talk rather than email.
NEW ZEALAND SCENIC TOUR - April 2022 below
for our main website go to www.eastern-taranaki.co.nz
NEXT TOUR 9th - 17th April 2022
Deposit ($1,000.00pp) required by 13th December 2021, balance April 2022
See details below:
Price: $2,700.00 per person - 9 days/8 nights - Otorohanga to Queenstown and flight home
Price depends on ticket price deals and deadlines met etc
Price includes all train and ferry tickets, 8 nights accommodation in at least 3+-4 star motels, breakfast each morning for first 6 mornings (breakfast not included in Queenstown), all road transport as discribed and flight to either Auckland or New Plymouth.
Does not include lunches or dinners and the side trips outlined.
TRAIN – FERRY – ROAD JOURNEY AUCKLAND TO QUEENSTOWN
Day 1 Taranaki to Otorohanga then to Wellington - note it is possible to start in Auckland or Hamilton
Depart 7:00am Taranaki to Otorohanga by van to meet the train at 10:55am.
You are welcome to BYO your own lunch or purchase on train (all food and drinks can be delivered to your seat). Every seat has either a table (per 4) or a pull down tray. From the train station a shuttle will be arranged to take us to our accommodation to Bay Plaza Hotel. Hotel has its own restaurant or other restaurants are within a few minutes' walk from hotel.
Day 2 Wellington to Picton
Our city hotel will be providing a breakfast in their restaurant, please have this by 7:20am. A shuttle will be arranged at 7:40am to transfer us to the Wellington Ferry Terminal. Ferry departure is at 8:20am – arrival to Picton is 12:30am. Once we have checked into our motel you will have a free afternoon.
There is a wine tour running from 1-5:45pm for around $75.00 per person; pick up and drop off is at the motel.
A boat nature tour of the sounds is available @$110.00pp; this includes 1.5 hours on an island. This tour has been very enjoyable with past groups. You will also have the following morning free until about 12 noon. Our accommodation tonight is in Broadway Motel, Picton. Continental breakfast will be delivered the night before to rooms.
Day 3 Picton to Christchurch
After your relaxed morning we board the Coastal Pacific train journey from Picton to Christchurch. Departure is 2:00pm with arrival at Christchurch Station at 8:30pm. A shuttle will be arranged to take us to our accommodation. Due to the arrival time I would suggest dinner is purchased on the train and either taken cold to the motel to heat or have on the train before arrival.
Day 4 Free day in Christchurch - options include Antartic Centre, Punting on the Avon, Christchurch museum etc
Day 5 Christchurch to Greymouth
Motel owners will transport us to the Christchurch Train Station albeit will have to make 2 trips to do so, first trip will be approx 7:20am. Our train journey today is the TranzAlpine departing at 8:15am and arriving in Greymouth 12:45pm. A 12 seater van will be waiting for the group at the station. Once booked into our accommodation we will take visit the Punakaiki area (Pancake Rocks) a 45km each way drive – this trip is optional and complimentary; you may wish to undertake an activity in Greymouth e.g. Montieth's Brewery etc.
Day 6 Greymouth to Fox Glacier
Today we head south in our rental van. We will visit the Tree Top Walk near Hokitika, entry is included as part of your tour - they have a lovely cafe and gift shop on-site.
There is a 2 hour guided tour to Fox Glacier if anyone is interested approx. $70.00pp, this needs to be booked prior to arriving. This tour is easy going with just over one hour, easy grade walking involved; it doesn't go onto the glacier itself but right up to it. Tonight stay is in the Fox Glacier area, another free option, for this afternoon, is to walk around Lake Matheson 4.5km easy grade walk. Possible for group to split to do either of these options.
Day 7 Fox Glacier to Queenstown
Our biggest road trip day leaving by 9am we will head down through West Coast Forest areas to Haast then past Lake Wanaka and Lake Hawea to Wanaka. Several refreshment stops will be had on the way before heading down through Cardrona and finally Queenstown. 2 nights stay at Bella Vista Queenstown
Day 8 Free Day in Queenstown
There is many options i.e. Gondola ride, Earnslaw Boat that can include a BBQ at Walter Peak Station. Own cost for activities van can be used for drop off locations however may not be always available for return trips so own cost for taxi etc may be necessary. We are happy to prebook any Earnslaw tours - other option that needs to be booked is dinner in the Gondola building at the top of the hill.
Van can be taken to Coronet Peak for views if road conditions allow (complimentary)
Day 9 Queenstown to New Plymouth or Auckland
Recommend we spend 1.5-2 hours at Arrowtown before travelling to airport for flights - Arrowtown is amazing at this time of the year and a "must see"
Van needs to be returned to airport by 11am for flights to New Plymouth or Auckland
info@eastern-taranaki.nz - to request PDF file or make enqueries etc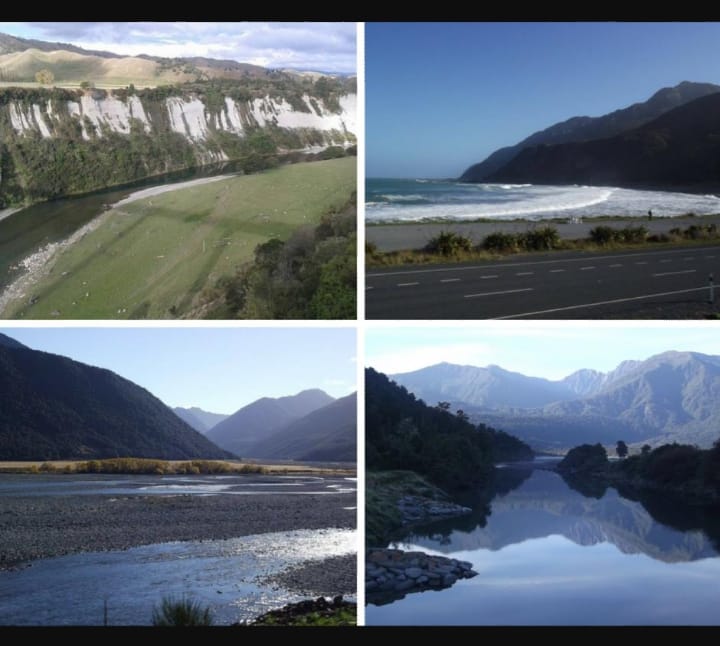 All above 4 photos taken by Carol Digby on previous tours